Here at ELA-Edinburgh we see helping our students become better students as one of our main goals. With this in mind we include 'learning to learn' sessions at the start of all of our courses and the feedback from them is always great.
Earlier this year we brought you tips on how to study more effectively, just look back in our blog to check out the details. Today we present some advice on how to learn vocabulary. If you sit at your desk and repeat irregular verbs to yourself, we are here to help!
You can make them at home and study them on the bus, at lunch or in front of the TV. Here is an example to get you started that shows some of the information you might want to include.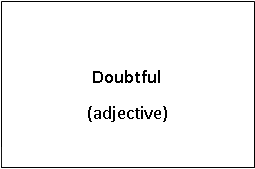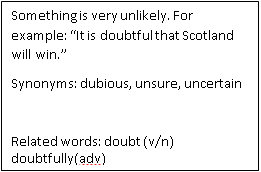 Don't forget to mix up the order of the cards and take a moment to guess before you turn over your card!
If you're more into technology you can try some of the great learning apps, such as Quizlet, which let you build your own personalized vocabulary lists
A notebook
Perhaps the next stage from flashcards is a notebook with your organized class notes. Teachers often notice that students write down vocabulary in a lesson but then do not organize it. Successful students generally have a well ordered notebook with different sections for phrasal verbs, idioms or grammar notes. This involves re-writing your class notes at the end of every week but you will soon notice the benefits.
Dictionaries

Whether online or print, dictionaries will define a word, help you spell it and explain how to pronounce it.

Word Maps
Word maps give you the freedom to link words in groups or categories and the chance to illustrate your diagrams. If you're a visual learner and enjoy learning through pictures, they could be             perfect for you.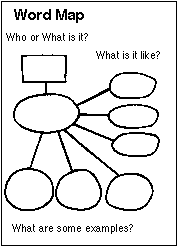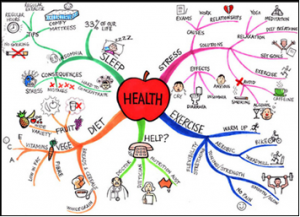 Learn ChunksMany people find it easier to learn phrases rather than individual words. For example, 'do homework' or 'make your bed' are chunks of language. Other examples of chunks might be phrasal verbs, 'to get on well with somebody', or idioms, 'to get on like a house on fire.'
Learn to take words apartMany language students find that analysing a word helps them to guess it's meaning without turning to a teacher or dictionary for help. For example; the word 'unimaginable' might look long and complicated but let's try taking it apart:

Viewed like this the word has three clear parts; the prefix, the stem (or route) and the suffix. If we remember that 'able' refers to ability and that 'un' is a general prefix to make something negative, we can guess that unimaginable means impossible to imagine. This technique is particularly useful for speakers of other European languages.

Review OftenYour goal is to transfer your new vocabulary from your short term to your long term memory. There's no point learning words in class today and not being able to use them a week later so make sure you look back over your notes regularly. With the help of a well-organized workbook you can make sure that vocabulary doesn't slip out of your head.